Over time, I've become more and more immersed in the films of British Director Nicolas Roeg. I'm in good company with Mick Jagger and David Bowie. Long ago and far away, they jumped at the chance to star in 'Performance' and 'The Man Who Fell To Earth.' Jagger played a reclusive rock star and Bowie an alien, establishing Roeg's instinct for casting as at least on par with his directorial skills.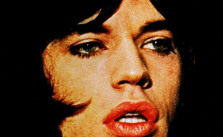 In all of his films, Roeg paints a vivid visual landscape that both reveals and obscures details that turn out to be critical at the conclusion. Out of broken pieces, he assembles an eye-candy journey that both confuses and delights every dark step of the way.
Admittedly, Roeg is someone you warm to. Both 'Performance' and 'The man who fell to earth' opened to poor reviews before going on to earn both a huge cult following and rave critical acclaim; 83% and 85% respectively, according to Rotten Tomatoes. As 'one of the most unique filmmakers of the 70's,' Roeg 'deals with questions of sanity and identity rarely touched on in mainstream filmmaking.'
The 70's? Who cares?
Many who matter today, is who. Roeg has influenced Tony and Ridley Scott, Christopher Nolan and Danny Boyle. He defined the gangster for Quentin Tarantino and Guy Ritchie. He's credited with creating the template for the music video with 'Memo from Turner' from 'Performance.' https://www.youtube.com/watch?v=cbyrm9q_bv
From 'Walkabout' to 'The Witches,' Roeg weaves indelible images that haunt us for a lifetime and make the disjointed and illusory seem sensible and real.
On the subject of real, Roeg inspired his actors to insert themselves not only into the roles they played, but their co-stars as well. The defining love scene in 'Don't look now' brings Donald Sutherland and Julie Christie together outside the demands of their contracts. Mick Jagger's intimacy with Anita Pallenberg during the shooting of 'Performance' destroyed her relationship with Keith Richards and may have motivated the Stones guitarist to diss the lead singer's 'tiny todger' in his autobiography 'Life.'
At 85, Nicolas Roeg is still making films, although his more recent work has gone largely unnoticed by a new audience. He has no plans to change, 'tho.
'God laughs at people who make plans. If one does too much planning, you're not seeing the gold beneath your feet.'